Award-winning entrepreneur and Red Balloon CEO Naomi Simson always drew motivation from a slew of inspiring role models growing up, her mother included.
Today, the founder of popular experience retailer RedBalloon and straight-shooting panellist on Shark Tank [Tuesdays on Ten] says her most rewarding moments come from helping others achieve their own dreams and goals.
'It's just so wonderful to know you've had an impact," Naomi confides to Shark Tank host Sarah Harris in the latest series of Game Changers, The Carousel's hit video and podcast series featuring famous Australians.
"It's the most rewarding thing for me when people come up to me at a speaking engagement, or they see me in the street and say, 'I heard you speak, or I read your book, or watched you on the telly, and because of you I did this, thank-you'."
Even RedBalloon is just as much about helping small business owners flourish, as it is a platform for providing customers with great deals on home spa treatments, or romantic weekends away, adds Naomi.
"People think of RedBalloon as a consumer brand, but what I'm actually doing is delivering a customer to another small business. So, I aggregated an industry, gave it a brand and the way I support 2000 small businesses is that I just delivery them customers over-and-over again.
To further strengthen that bond, Naomi has just brought Albert AI to Australia and New Zealand, the first-ever artificial intelligence marketing platform for business. The cutting-edge software enables consumer marketers to reach more potential customers faster and cheaper than ever before.
Under her new over-arching management umbrella, The Big Red Group, Albert complements a suite of other 'helping-hand' brands in Naomi's ever-expanding portfolio.
There is Redii, peer-to-peer employee recognition and reward software that helps businesses retain and grow their most valuable asset; wrapped.com, a platform for innovative products yet to find a traditional retailing home; and her exciting new Facebook community called The Huddle.
To join the inspirational group, you just visit naomisimson.com where you download the first free chapter of her best-selling book Ready To Soar to receive an invite.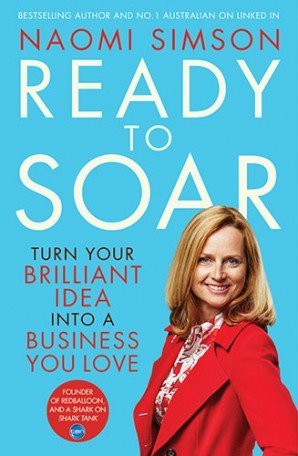 "Running a small business can be quite lonely," Naomi tells Studio 10 co-host Sarah.
"If you're having a bad day at work, you can't come home and tell your family you're worried about your financial security, so peer-to-peer connection is really important."
So, what's her number one piece of advice for business owners who may be struggling to gain traction?
Stop getting distracted by the 'urgent' and stick to what's really important, she says.
"Often, we get thwarted in our ability to execute on that because someone else has said they urgently need this, so you don't get to work on your important. So, the way to work on your important is to know what that important is.
"Ask yourself what is the one thing you can that if you do it, everything else will become easier (as a result)."